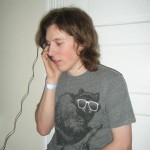 Welcome to another edition of Dick Picks, the only online NFL gambling column ghost-written by Jane's Addiction front man Perry Farrell.
Last week I ended up pulling myself back up above .500, which was fun, but this week could easily bring me back into the red. There are a lot of road favorites in the NFL this week which never bodes well for gambling purposes, but at least we have a clearer picture of who sucks a lot and who only kind of sucks. I say this because it looks like everyone is at least a little terrible this year, and the only separation is between these teams that are briefly terrible and the teams that are spectacularly terrible.
I think this ability for the terrible side of every team to show itself at the worst possible moment has attributed to my struggles this season. Or maybe it's the alcoholism. Since it's Halloween let's do a SPOOOOOKY edition of Dick Picks and I'll tell you one thing that scares me about each game. Anyway, this week's column is probably going to be a little shorter than usual since I'm incredibly hungover and I already threw up in the ocean today. On to the picks. Last week's picks went 9-4, and as always, the home team is in caps.

Cincinnati -3 vs. MIAMI
Well, as is the case every Thursday, I pick the team with the better defense. This week I also like the Bengals because Miami is in the midst of an embarrassing collapse after their mirage of a 3-0 start, and that means they'll most likely be playing desperate. Desperate doesn't suit Ryan Tannehill and this offense, as they showed last week in New England. What scares me here is that this game is a microcosm of the bullshit phenomenon of mediocre quarterbacks being lauded as franchise saviors because they throw the ball a ton and put up respectable numbers despite actually being talented or good or handsome. I'm terrified that this is going to continue and we're going to have to listen to people pretend that every goddamned quarterback is Joe Montana for the next decade. To put this in perspective, neither of these guys will ever be as good as Drew Bledsoe, and Drew Bledsoe was ass.

CAROLINA -7 vs. Atlanta
It's so tempting to take the Falcons in this game because hey I remember at the beginning of the year when they were supposed to be good and that's a lot of points, but NO. The Falcons are trash this year, and the injuries keep piling up to the point where this could very well be their "throw in the towel" game. Also Carolina has been pretty handily beating the teams they're supposed to beat, which is what Atlanta has turned into.  What scares me about this game is that, at some point, Ron Rivera realized that you can run the ball in short yardage to get a first down, and that he has about nine running backs and a quarterback capable of doing this, so maybe the Panthers will become unstoppable killing machines with an unquenchable thirst for human blood. That's probably what will happen.

DALLAS -10 vs. Minnesota
Nobody loses a game like the Dallas Cowboys. I mean, holy shit. This makes me believe that this week, in true Dallas Cowboys fashion, they'll have a great game that makes everybody think they are good again before pulling the same bullshit in their next game and making everybody remember to never trust the Cowboys. The scariest thing about this game is the number of suicides that could be caused by the miserable quarterback situation in Minnesota coupled with the impending winter. Be safe Minnesota people. I know jumping from that bridge into the frozen Mississippi seems like the only option, but you could always just drink a lot of beer and listen to the Replacements, which is what I'll be doing and I don't even live there.

New Orleans -6 vs. NY JETS
It's the Ryan Bowl! Two brothers, one game, 100 chicken wings consumed before kick-off. The Saints are at the point in their season where they can basically coast to a first round bye, but I think the brotherly competition will keep them from sleep-walking through this one. This game is scary because I bet Rob Ryan's hair is full of bats and when the whistle blows it will frighten the bats and all the bats will fly into the stadium and terrorize the spectators. Or maybe it's scary because of Jimmy Graham's creepy head.

ST. LOUIS +3 vs. Tennessee
I am frightened that this game even exists and that other people will be subjected to its existence. Moving on…

Kansas City -3 vs. BUFFALO
Buffalo has been a very tough out at home this year, but the Thad Lewis/Jeff Tuel/Matt Flynn combo isn't getting anything by the Chiefs defense. I am scared that once Andy Reid finds out that this is where Buffalo Wings were invented he's going to treat it like his holy land and never leave, forcing him to coach the remainder of Kansas City's season live via satellite from various Bar and Grills with sauce all over his face. Actually this isn't scary so much as it is very likely.

San Diego -1 vs. WASHINGTON
We somehow manage to avoid an intra-divisional NFC East game this week, and for that the world rejoices. Several teams in this division still have to play football games, however, so that sucks a bunch of dicks. Bobby Griffiths Jr. looked like he could have pulled off the upset at Denver last week until he decided it would be more fun to watch Peyton Manning play and started giving Denver the ball. Also he's injured! So there's that as well. I'm scared of what Phillip Rivers' house looks like on Halloween. He probably decorates it with the Stations of the Cross and hands out Bibles to trick or treaters while some poor guy he hired to play Jesus gets whipped on his porch.

OAKLAND -2.5 vs. Philadelphia
Terrelle Pryor has been pretty fun to watch, Oakland maybe isn't so bad this year, and the AFC West might actually be the best division in football at the moment. Part of that may be the inflated numbers they're getting from playing the worst division in football, and we all know which division that is. Oh hey look it's the Eagles. Who's their quarterback this week? Nick Foles? That doesn't sound promising. I'm pretty sure he has brain damage. What scares me about this game is what would happen if you got Eagles fans and Raiders fans into the same building, and I think we all know the answer: some of the most passionate and unattractive love-making the world has ever seen.

SEATTLE -15 vs. Tampa Bay
Hey look the Seahawks are at home so I can possibly trust them to cover a spread! Hoo boy the Buccaneers are atrocious. They may join the Jaguars at 0-16 this year. The prospect of playing for either of those teams might cause Jadaveon Clowney to shoot himself this April instead of fifteen years from now when his brain has been ravaged by CTE. What scares me about this game is that it could be the last time I get to see Greg Schiano patrolling an NFL sideline with a look on his face like somebody just told him his car was being towed. If any of us were as bad at our jobs as Greg Schiano is at his we would probably be prosecuted.

CLEVELAND +2.5 vs. Baltimore
Jason Campbell is the answer Cleveland has been searching for! Haha just kidding he's pretty mediocre, but mediocre looks downright legendary when you put on that brown jersey and orange helmet. I think this week the Browns offense does just enough that their defense doesn't have to shoulder the load in another narrow loss. The scariest thing about this game is Joe Flacco's hideous eyebrow because it will always and forever be Joe Flacco's eyebrow. I heard if you stare into it for too long you go mad.

Pittsburgh +6 vs. NEW ENGLAND
New England is very injured and I don't want to say it but Tom Brady maybe perhaps possibly kind of sucks now. Not that Pittsburgh doesn't suck as well, as a football team, a city, and a general concept. I just think six points is too many in a game between teams that can barely field 11 players without someone's limb falling off. The scariest thing about this game is being trapped in a bathroom stall with Ben Roethlisberger. I bet Ben Roethlisberger has rubbed his dick on some really weird things just to see how it feels.

Indianapolis -2.5 vs. HOUSTON
Andrew Luck, meet Case Keenum. One of you will still have a job next week. Care to guess which one? This game is scary because it reminds us that we are still several weeks away from flex scheduling, which would have bumped this shit-pile to 1pm where it belongs. Luckily we will be spared the week 13 nightmare of Washington vs. The Giants which is currently slated for prime time. Yuck sick puke.

GREEN BAY -10.5 vs. Chicago
What could have been a decent game was ruined by injuries, as Jay Cutler and Lance Briggs were added to Chicago's list of infirm, which will most likely turn this into a blowout, as Aaron Rodgers loves to bring pain and suffering to Chicago Bears fans. Chicago, New England, and Atlanta all seem to be missing 90% of their starters, so I guess I should feel lucky I don't cheer for the Bears or Falcons because my team is in a shitty enough division that we don't need real players to win it. Unfortunately Josh McCown isn't going to get it done in the NFC North. The thing that scares me most about this game is the image of John Gruden wearing the uniform of a Hooters waitress, heating up some massage oil, and waiting for Aaron Rodgers in the trainer's room after the game. I assume that's what's going to happen anyway.

LAST WEEK:  9-4

*scratching on the lid of a coffin*
SEASON:  51-48-5