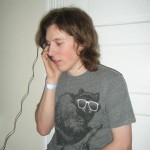 Welcome back to another edition of Dick Picks, the only online NFL Gambling column that is loudly translated into Vietnamese at 3 AM by my neighbors.
So are we all ready to admit that this is the worst NFL season in the past decade? I watched Cincinnati vs. Baltimore last Sunday because I hate myself and do not value my happiness or personal well-being, and for an overtime game that was tied on a Hail Mary in the final seconds, holy shit was it a terrible game.
Andy Dalton and Joe Flacco combined for about 18 total interceptions and three total eyebrows. Even the Hail Mary that tied the game was made possible by hilarious ineptitude in the Baltimore secondary. Sure you could bat the ball down and win the game, or you could POP IT UP INTO THE AIR AND SEE WHAT HAPPENS WHY NOT WE'RE ALL JUST HAVING FUN HERE RIGHT?! Then what was supposed to be the marquee game of the week, San Francisco vs. Carolina, ended up being about as fun as three hours' worth of flossing.
This week proved that football is a sickness. Ten million people watched Monday night's game between the Dolphins and the Buccaneers, which proves there are at least ten million people who couldn't give less of a fuck about the quality of the games, and they will watch them simply because they are football and they are there. This is why even with the plague of injuries to star players this year, we're staring down an 18 game NFL season because people will watch Scott Tolzien and Ryan Fitzpatrick and Mike Glennon and Christian Ponder monkeyfuck their way through 60 minutes of football and not bat a fucking eyelash. And we still have seven weeks of this hate crime of a season until the playoffs get here. Even with three games this week matching likely playoff teams, I have little hope that we'll see any improvement. Fun times! I guess I'll get to the picks but honestly I don't know why I even bother. Last week's picks went 6-7-1, as always the home team is in caps.
Indianapolis -3 vs. TENNESSEE
Well the Andrew Luck magic fell short when they ran into the buzzsaw that is the St. Louis Ra- I can't even finish that sentence. You lost by 30 points at home to Kellen Clemens, and I still have to pick your shitty team because the team you're playing lost to the JACKSONVILLE FUCKING JAGUARS.
I said last week that a great team beats St. Louis at home by 20 points, and Indy decided to take it 50 points in the opposite direction AND THEY'RE STILL ONE OF THE SIX BEST TEAMS IN THE NFL BY DEFAULT. Ryan Fitzpatrick continues to do Harvard proud by being handed opportunities he has not earned and does not deserve. This might not even be one of the ten worst games of the week, which is hilarious because the thought of sitting through it makes me want to die.
TAMPA BAY +2 vs. Atlanta
I'm picking Tampa to win this one because I think the Falcons are savvy enough to throw a couple of games and put themselves in line for a top draft pick, whereas I fully expect Greg Schiano to be just as bad at sucking as he was at legitimately trying to win football games. This would be such a Schiano thing to do; turn the season around when it doesn't matter anymore and win enough games to put yourself out of position to draft the guy that you want. You have had a legendarily bad coaching season when half of your team gets MRSA and you are considered the most vile thing in the locker room. At this point Bucs players would probably rather be coached by that fog that turns people inside-out.
BUFFALO -1.5 vs, NY Jets
YOU GUYS LIKE FIELD GOALS???? GET READY TO SEE A FUCK-TON OF FIELD GOALS MOTHERFUCKERS! ALL KICKING ALL DAY AND WE AIN'T GON' STOP 'TIL ALL THE FIELD GOALS BEEN KICKED! No but in all seriousness I'm going to be hungover and this game is going to be on my television and I might openly weep about it.

Detroit -1.5 vs. PITTSBURGH
Detroit really fucked me by letting Chicago backdoor the spread last week, so I don't know why I'm picking them again. Oh that's right, because they're playing ol' Grey Dick Ben and the Shittsburgh Steelers (see what I did there with the Shittsburgh thing? Pretty clever in my opinion and rather original to boot. Call me; I am available to write for your television show or web series or pet's obituary.) It's feeling like Detroit might be able to steal a first round bye in the playoffs if all the good players in their division keep dying. I'm kind of mad that they didn't cast Megatron as the new RoboCop. It seems like an obvious choice. Also, in the second RoboCop, when they kept trying to turn other cops into RoboCops, why did they keep killing themselves?
"Oh no, I've become an unstoppable killing machine and a powerful force for justice! THE HORROR!" I bet it was because they took their dicks away. If they had just let the RoboCops keep their dicks they probably would have had an army of RoboCops. This is why I'm a huge proponent of robots with human dicks AND THIS IS THE ONLY REASON.
Washington +3.5 vs. PHILADELPHIA
Despite both of these teams being awful, they can occasionally be entertaining since neither possesses a functioning secondary and they each have a quarterback that is liable to just shrug his shoulders and heave the ball downfield. Riley Cooper was a candidate to be targeted by Brandon Meriweather even before he was caught on tape beating the world record for "Fewest Number of Times Using the N-Word at a Country Music Concert." Now that he's been outed as probably just as racist as any other dumb white professional athlete, the bullseye on him could only have gotten bigger. Meriweather has vowed to go low on opponents, so I could see Cooper's knee being turned to spaghetti this Sunday. This would mark the first Washington Systematic-Genocides game in two years where the knee most in danger of exploding isn't Bobby Griffiths Jr's.
San Diego -1 vs. MIAMI
Well this line feels like a trap. We're pretty sure Miami sucks now, right? They just lost to a bunch of zombies on Monday Night Football, and their blocking is so bad (HOW BAD IS IT?!) Their blocking is so bad that they couldn't tell you the difference between house right and stage right! Just a little theatre humor for you guys. I don't know, maybe Phillip Rivers will get distracted and miss the game in order to spend his entire day telling Cuban homosexuals that they're going to hell? I don't see why San Diego shouldn't win this game by more than a point, but you've seen my record, so let's just move on.
Baltimore +3 CHICAGO
The number one cause of death in Chicago for males aged 18-40 is gun violence, and the number two cause apparently is playing for the Bears. This team is facing injuries at almost every major position, including their top defensive playmaker landing on Injured Reserve this week. I don't know what the hell to make out of Baltimore, although it seems like their offense is pretty horrible despite Joe Flacco being the self-proclaimed greatest living quarterback. Joe Flacco calling himself the best quarterback is like Budweiser calling itself the King of Beers. Yeah it'll do in a pinch, and it's relatively inoffensive compared to some other options out there, but if that's what you're rolling with you know you'll end up punching a few walls and feeling like shit the next day.
Anyway, I'm rolling with Budweiser this week because it's either that or Josh McCown? Luke McCown? I forget which McCown but they're like the Keystone Light of quarterbacks. No thank you, this isn't college.
Cleveland +5.5 vs. CINCINNATI
Well Cleveland already beat the Bengals once, and since then the Bengals seem to have gotten worse while the Browns have been treading water at mediocre and keeping games close. Giovanni Bernard taking a nine yard loss on fourth down in overtime last week was a thing of beauty. After forcing overtime on the luckiest play of the season, to piss the game away in such embarrassing fashion was pretty remarkable. Also, Marvin Lewis not punting after the Ravens had moved the ball a total of eighteen inches in the second half was a very Marvin Lewis thing to do. If it's Peyton Manning and the Broncos on the other side of the field I guarantee Lewis punts in that situation and that is precisely what makes him Marvin Lewis.
Oakland +7 vs. HOUSTON
It's a battle of two quarterbacks battling Ryan Tannehill Syndrome, which is when a quarterback is better than expected, so people lose the ability to distinguish between "outperforming expectations" and "actually being good." It is also called Andy Dalton Syndrome if the sufferer has awful red hair. While Case Keenum and Terrelle Pryor have certainly been adequate, is either of them a guy you really want on your team? No, they are not. They are guys who you get stuck with because of injury or incompetence (or both! Thanks Matt Schaub!) and develop irrational confidence in because they didn't completely suck, they only sucked in select situations, which more often than not are situations that win or lose football games. These guys are each good enough to cover a spread when they're underdogs, but not when they're favorites. At least that's my opinion anyway, but what do I know? I'm just some shithead.
Arizona -6.5 vs. JACKSONVILLE
BOOOOOOOOOOOOOOOOOOO! BOOOOOOOOOOOOOOOO! BOOOOOOOOOOOOOOOOOO!- a ghost who fucking hates Jacksonville.
Kansas City +8 vs. DENVER
The biggest upset of the season so far has been John Fox needing heart surgery before Andy Reid. Andy Reid is overweight and therefore presumably unhealthy, you see. Anyway, I want to see what Kansas City's defense can do against the Bronco's offense. The weather is getting iffy, and good defenses have historically won these types of matchups. Denver might be able to pull off the win at home but I think it will be close, and giving KC more than a touchdown seems a little much. Of course it's possible that Kansas City sucks and has just been a product of their laughable schedule, but everyone sucks this year so I won't begrudge them. Peyton is also a little hobbled, and while I don't wish injury upon anybody, I would like to see which brand of air-cast Peyton chooses to endorse in the event that his ankle gets ruined. How will we know which is the best one until Peyton tells us?!
SEATTLE -12 vs. Minnesota
Seattle has been really fucking me recently and I'm not happy about it. Minnesota is awful, so if they loaf it through three quarters and Russell Wilson wills them to another three point comeback win I'm mailing Pete Carroll a poisonous snake. I might just do that anyway. Ignore the hissing Pete! Just reach your hand into the super fun mystery box!
NEW ORLEANS -3 vs. San Francisco
What the fuck is Colin Kaepernick's deal? Is this going to be the game I pick against him and he rushes for 200 yards and throws for 300 more? It is, isn't it? Fuck you Colin Kaepernick.
NY GIANTS -6 vs. Green Bay
Scott Tolzien comes to Manhattan! Or New Jersey but whatever! Or maybe the Packers will start Matt Flynn! Either way, gross! Tolzien was the quarterback of my alma mater, and I can tell you he is good enough to win a football game if everyone else does all the work and he only has to not kill his running back with an errant pass. I don't see him having the luxury of not having to make a throw this week. And if it's Matt Flynn? He's a guy who is under the impression that he can make all the throws because someone once played a practical joke on him and told him he was good at football. Pretty sure it was Pete Carroll. Unless Eli throws eight interceptions, which let me remind you is always a possibility, the Giants SHOULD be able to cover six points. We're also to the point in the season where the weather gets crisp and Tom Coughlin's face looks like a raw steak covered in dandruff. That's what HD TV is all about.
New England +2.5 vs. CAROLINA
Now, I should be taking the Panthers here because New England has the slowest linebackers in the NFL and Cam Newton should be able to run for 400 yards on his own. However, because he probably (definitely) could, this will be one of those infuriating games where his coaches just don't let him because THAT'S EXACTLY WHAT THEY'LL EXPECT! Instead he'll probably attempt 40 passes from the pocket against a defense that lives and dies by turnovers, and will produce some hideous 21/40 260 YDS 1 TD 3 INT stat line that he'll take all the blame for. Also the Pats are 10-3 after a bye week under Belichick, because every bye week he shoots down to Hedonism and bangs divorcees for six days straight, which is what gives him his eerie powers. I bet Bill Belichick has your mom's phone number and she didn't even give it to him.
LAST WEEK:  6-7-1
*donkey bray*


SEASON TOTAL:  61-64-6