Hi, I'm Mariel and I'm an American that likes to travel. The truth is the actual traveling part of any trip is the worst. Airplanes are expensive cesspools, trains are slow, and buses are the lowest form of transportation. The fun part of traveling is eating and drinking local foods…and, I guess, seeing sites.
I travel to India often for work and I'm lucky to have tried lots of wonderful food there. Here's a picture of me at the Taj Mahal – it rained, but was beautiful. Unfortunately, I ate at the worst restaurant in the entire country shortly after this picture was taken. I blame the tour guide. Next time I'm going to McDonalds.
On another trip to India, I tried aam panna – a drink made with green mango juice and spices. After I took my first sip, I knew that I could make it at home, but with gin! If you've ever had gin, you know it improves many non-alcoholic drinks and tense family dinners. It's a multi-faceted spirit!
I've never seen green mango juice in the US, so I improvised and replaced it with coconut water.
Coconut water has taken America by storm in recent years. Today, it is as American as cultural appropriation.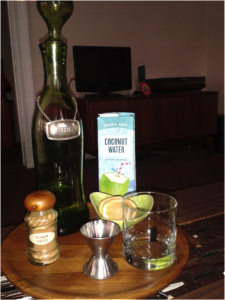 To make aamerican panna you'll need:
Gin
Coconut water
Lemon or lemon juice
Cumin
Combine one ounce of gin with a bunch of coconut water. Then add lemon and sprinkle liberally with cumin. Then stir the elixir like you're a Bond villain.
If you like cumin, you will like this drink. If you don't like cumin, why are you making this drink? Stop trying to broaden your horizons, you're an American. Broaden your waist line.