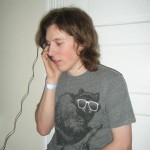 DICK PICKS!
UnScene Comedy's Weekly NFL Gambling Column
by Rich Karski
Welcome to another edition of DICK PICKS: the only online NFL gambling column that annoys co-workers all day by making guitar noises with its mouth.
This past week was pretty fucking lame on the whole. There were three fairly exciting games and one of them ended in a tie. Also can we please get rid of the "kissing your sister" analogy when it comes to ties?
Even though siblings never kiss anymore for any reasons that aren't absolutely deviant, that's not even the most disturbing part about it. No, the most disturbing thing is how excited everyone is to say it after there's a fucking tie. People fall all over their dicks to yell out "IT'S LIKE KISSING YOUR SISTER!" as if they coined the term and are owed royalties on every use. We get it, the thought of siblings kissing each other gets you excited in ways that normal humans can't comprehend. You're fucking gross. It isn't even a good analogy.
A tie is not like engaging in abnormal relations with your sister. You know what a tie is like? A tie is like when you have to walk a mile and a half to your fucking car because you live in the city and the parking is terrible, and when you get to your car you realize you forgot your keys and have to walk alllllll-the-fucking-way back, then once you finally get to your front door you realize that your keys were just in a different pocket and you wonder what the fuck was the point of even leaving your goddamned house in the first place. That's what a tie is like. It's pointless, it's infuriating, but it's not a sex crime.
ELSEWHERE in the NFL last week: the two worst teams in the league played the worst game and everybody hated it and wanted them to stop but they wouldn't. They just wouldn't stop. Tony Romo hid behind his running game again and now everybody believes the Cowboys are good. Joe Flacco earned the nickname "Domino's" because he got it done in 30 minutes or less but still made you feel sick and like you wasted your money.
Johnny Football continues to be an inspiration to an upstart Browns team by doing all the Snickers commercials so their real quarterback can get enough rest. Aaron Rodgers did a thing that made every sportswriter from Maine to San Deigo (we're talkin' soooftballlll) pine to suck his dick. Everyone on the Patriots died and Arizona is in first place and primed to disappoint all eight Cardinals football fans when they fade down the stretch. Victor Cruz made everybody cringe, and then cry, and now I never want to even think about jumping again in my life.
I think that about covers it and if it doesn't it's just because I was too lazy to open another browser tab and check to see if I forgot anything. Fuck you because I don't get paid to do this.
My picks last week were a decent-if-not-spectacular 8-6-1, which means I know about as much about football as that octopus that used to pick games but then was probably euthanized for attacking its trainers. Anyway, ON TO THE PICKS! As always, home team is in caps.
NEW ENGLAND -9 vs. NY Jets
I'm tempted to take the points in this game because the last time these two teams played on a Thursday night I'm pretty sure New England won 2-1 on penalties. However, the Jets look like they already quit and everyone on the team hates Geno Smith and we've been getting the typical Jets "the locker room is divided and everyone hates each other because some players think the Gilmore Girls is a good show and everyone else keeps calling them fags" stories. Rex Ryan has managed to keep his job through almost five years of this, but I think this game may finally be his Waterloo (which is also my favorite ABBA song and if you say it's "Dancing Queen" or "Mama Mia" we are in such a fight.) New England's receivers are not great, but the Jets will be starting some defensive backs that probably watched Sunday's games during their breaks at Chipotle. In the event of a blowout Rex won't survive the week and then Tony Sparano will probably hire him in Oakland to help him bury some footballs so the other team can't find them and score all the touchdowns.
INDIANAPOLIS -3 vs. Cincinnati
This is kind of a tough game to pick on paper, but then I realized that the Bengals have given up 80 points in the past two weeks to offenses that had previously struggled to score. All Andrew Luck does is score. He's like Wilt Chamberlain in the '60s if Wilt Chamberlain still giggled at the word "boob." The Bengals do have Vontaze Burfict back, and did not lose him to suspension for going full Kurt Angle on Cam Newton and Greg Olsen, so maybe he can put Luck in a Crippler Cross Face and take him out of the game. If he can't get Luck out of the game, despite Reverend Ginger not looking like complete ass, Cincy could have a lot of trouble keeping up.
WASHINGTON -5.5 vs. Tennessee 
Hey! It's the obligatory "Kirk Cousins may have struggled a bit in his past couple outings, but HE'S BACK!" game. Expect him to go 30/44 with 396 yds and 4 TD and then everyone in the DC area will be wondering if they can get three first round picks back for Bobby Griffiths Jr. (they can't!) Also the president of the Navajo Nation sat in the owner's box with Dan Snyder at this past Sunday's game and took A LOT of shit for it, but let's be real. When has a white man offering Native Americans something cool for free ever backfired? * flips through history book* OH WHAT THE FUCK?! AND HE STILL WANTS TO CALL HIS TEAM THAT?!!! JEEEEESUS CHRIST!!!
CHICAGO -3 vs. Miami
Another boring inter-conference game albeit with actual potential playoff implications even though we're early in the season. If the Patriots win on Thursday, Miami needs this win or their season opener where they pretended they won the Super Bowl just because they won a divisional home game is entirely erased and they fall 2.5 games back which is kind of an insurmountable hole in the NFL unless the team in front of you is the Detroit Lions. Speaking of the Lions, the Bears are one game behind Detroit and Green Bay, who also play home games this week, and need to keep pace in the division. Even though a win would be crucial to both teams I doubt either will play like it because when you expect these teams to zig, they zag, and they usually zag into traffic and they don't actually die but they kind of just sit on the porch all day staring at the sun and creeping out the neighborhood children.
Cleveland -5.5 vs. JACKSONVILLE 
I'm all on-board the Brian Hoyer train and it's not stopping until he suffers another devastating knee injury! But seriously, I would LOVE to actually root for the Browns, especially in a division with the Ravens and the Steelers which are the two least likeable teams in sports since that racist team who refused to remember the Titans. HOWEVER, Browns owner Jimmy Haslam is a criminal and all-around scumbag who bought the team with daddy's money while stealing hundreds of millions of dollars from customers by shaving cash off their good-faith rebates "guaranteed" in their contracts with his company. He then let a handful of his employees take the fall while paying (again, out of his daddy's pocket) to keep his whitebread ass out of prison. Jimmy Haslam is the goddamned Spaulding Smails of the NFL and GODDAMMIT Cleveland even when you're doing something right you can't do anything right.
Seattle -7 vs. ST. LOUIS
Well Austin Davis the ride was fun while it lasted. All the Rams can hope for now is that he doesn't play "well" enough to keep them from drafting their QB of the future in the top five next year. The Ferguson protestors were out in full force on Monday Night Football, and I'm actually kind of excited to see Major League Baseball tiptoe around the issue if they end up with an all-Missouri World Series. Joe Buck: "Here we are in beautiful downtown St. Louis, where nothing is on fire and everyone is happy! Look at all those happy faces in the crowd!" * camera pans through crowd showing only white people with enough money to afford World Series tickets, Joe Buck sighs with relief until the first WE SUPPORT DARREN WILSON sign pops up* JB: "OH MOTHERFUCKER!"
Carolina +7 vs. GREEN BAY 
Green Bay has covered one spread this season that wasn't against Christian Ponder so that's not great. Carolina did an alright job on the road against Cincinnati, so we could be looking at another shootout here. I'd be willing to talk at -6.5 but I'm not sniffing anything more than that. Green Bay's best bet is that Rex Ryan gets fired, comes on as defensive coordinator the next week, and they don't tell Dom Capers anything. They just give him a headset that plays ocean sounds until he falls asleep on the sidelines halfway through the first quarter.
Atlanta +7 vs. BALTIMORE 
Ugh, I hate picking the Falcons because they are actual gutter trash that tricked me into thinking they could win ten games in a division that I thought sucked but actually SUUUUCCCCKKKKS. I still don't trust Baltimore and Joe Flacco.
When the Falcons were flying high (bird pun y'all) after they stomped Tampa Bay, they got laughed out of Minnesota on their way to three straight losses. Baltimore probably thinks they're pretty good right now, and in great position to take over this division, which means they will do everything in their power to lose this game and we just have to see if Atlanta actually lets them. Also, naming your sports franchise after a bird is fucking stupid. There are FIVE franchises named after types of bird, and ZERO named after alligators, snakes, wolves, or bees. Why wouldn't you pick an animal that could kill you? A bird is less likely to kill you than a sandwich. Your mascot might as well be a sandwich.
BUFFALO -5.5 vs. Minnesota 
Well, just because EJ Manuel and Geno Smith and maybe Teddy Bridgewater suck, everyone is going to think Cam Newton is an outlier (and maybe BG2) and that they should be scared of black quarterbacks again. Because JP Losman, Joey Harrington, David Carr, Tim Couch, Patrick Ramsay, Rex Grossman, Matt Leinart, Brady Quinn, Tim Tebow, and Christan Ponder went on to have such illustrious careers.
Look, at least 75% of first round quarterbacks are going to suck and flame out. Then you're going to end up starting Kyle Orton (past his prime IF YOU CAN IMAGINE) and still be favored by almost a touchdown. The NFL is weird.
New Orleans +2.5 vs. DETROIT
Well New Orleans has been fucking me all year, and Detroit is a team I rarely find myself picking against, so this is a tough game for me. Detroit's defense has actually been pretty damn good and the Saints have been awful plus they lost Jimmy Graham, so why the fuck am I picking them on the road? I don't know, leave me alone. Do you want my methods to make sense or do you want me to keep telling jokes about guys' dicks? That's what I thought. Bet the Saints you ungrateful jackalopes.
Kansas City +4 vs. SAN DIEGO
This is a stupid pick because San Diego has been on a tear since losing at Arizona in week one and Kansas City followed up big wins vs. Miami and New England with a trash performance at San Francisco and Andy Reid probably spent his whole bye week trying to figure out how to trade his timeouts for McDonalds Apple Pies. But it's also NOT a stupid pick, and do you know why? Because San Diego has been rolling along on Philip Rivers' arm, and the Chiefs' strength has been keeping solid quarterbacks off the field.
As long as Andy Reid runs the ball instead of letting Alex Smith air it out then KC should be able to keep this close oh Jesus Christ I based my pick on Andy Reid coming up with a game plan that plays to his team's strengths and I've typed to many words to backspace all the way to change my pick. Well, fuck it. San Diego is flying too close to the sun for my liking anyway. Rivers better not let his God see him playing like this or his pride will get him smote. Smited? Smoten? Whatever, God is dead.
NY Giants +6.5 vs. DALLAS 
Victor Cruz is gone and the Giants offensive line was terrible and Dallas has looked like one of the best teams in the NFL. Despite all of this, I have learned to never pretend that I know what the fuck is happening in the NFC East, and to never trust any team in this division. Dallas has made me look stupid all year because their defense that I said was going to be the worst ever has actually looked pretty great after the first half of week one.
If they want to keep making me look stupid, they're free to do so, but I'm not going down without a fight unless that fight seems hard or I'm tired or I lose interest which happens pretty frequently to be honest with you. What even were we talking about? The Cowboys? No, I don't care about that anymore let's talk about something else.
Arizona -3.5 vs. OAKLAND
Tony Sparano buried a football to symbolize his team burying their 0-4 start to the season and they promptly lost game five. I assume his backyard is full of buried scratch tickets and he probably got divorced because his wife wanted him to stop wasting his money on them and he kept assuring her that since he buried the last one the next one was sure to be a winner. Tony Sparano is an idiot is what I'm getting at.
San Francisco +7 vs. DENVER 
PEYTON MANNING PRIMETIME FOOTBALL BLAH BLAH BLAH COLIN KAEPERNICK IS NO PEYTON MANNING BLAH BLAH BLAH. God the forced storylines for this one and Collinsworth doing his weird little chuckle and saying dumb shit like "Boy I tell ya, Peyton Manning looks like he's done this once or twice before" might be enough to make me avoid this game.
The Jets did an admirable job of defending Manning last week and still gave up 3 TD and 31 points. He's probably in that zone where he's going to throw 4 touchdowns a game for the rest of the season. HAVING SAID THAT: I don't trust their ability to blow out the Niners. Every game Denver has played they've only shown up for one half. I recently watched the Patriots do the same thing for several seasons and that did not result in a lot of covered spreads. Also fuck Peyton Manning and his giant dumb head.
PITTSBURGH -3 vs. Houston
God if these cities got any fatter their teams would have to play every Monday night just so their fans could start waddling into the stadium on Sunday morning and be able to squeeze themselves inside before kickoff.
LAST WEEK: 8-6-1
* turns up radio ever so slightly even though the neighbors might complain*
SEASON TOTAL: 47-42-2