"Sixty dollars" the man at the motel desk said in a thick accent as he entered it into the credit/debit pad.  I looked at the pad and saw the amount  $0.60.  "You hit enter" he said, urging me to complete the transaction.  I thought about taking the $59.40 discount but then decided to do the right thing and I pressed the zero button two more times to make it read "$60.00".  The man at the desk looked at it somewhat confused and said "Sixty dollars?", and I gave him a big thumbs up.  Finally, I hit enter and then the PIN and I had paid full price for the room.  When the transaction was complete he handed me a room key (not a card but a key) and said "thank you" a dozen times.  Phoebe and I went to the room and found a bed that was about 5 feet long and a TV that didn't work and a room that hadn't been updated in 60 years.  But there was 4 walls and a door so we had a place to stay for the night and that's all I cared about, we were on our way to a wedding so I figured by the time we got back to the motel we probably wouldn't even notice if the bed was made of quartz.   The last thing I remember hearing Phoebe say before I fell asleep that night was "we're gonna get murdered in this room.".
But that's the end of the week…. what about comedy?  Well, I'll tell you.
Monday – Hosted another open mic at Sally O'Briens in Somerville.
Tuesday

– I hosted a terrific comedy show at Stadium in Quincy.  I started setting up the room at 3 pm because I didn't want to be rushing to get it done.  At 6:30 Rick Canavan headed up a writer's workshop as he does every week, at 8pm I started the stand up comedy show and at 10pm we once again had our famous debate show.  A healthy turnout of 63 people in the bar for the show.  I can't wait to do it again!
Wednesday – I tried out some new stuff at the open mic at the Tavern at the End of the World.
Thursday

– I worked landscaping.  Getting back to my roots and the roots of these weeds and pulling them out of the ground so that wealthy people don't have to see plants that aren't aesthetically pleasing.
Friday

–  I started the day by meeting up with Jim Akiba to go get a pig.  Oh yeah, we drove an hour and a half to a pig farm/slaughterhouse with a giant cooler in the back of Jim's car.  He told me it was the biggest cooler he could find.  When we got to the slaughterhouse an older woman carried a pig out in a bag with the help of another fellow that worked there.  Pig in one hand, cigarette in the other she grunted some words at Jim and he did his best to get the pig into the cooler.  This woman looked to be about 55 years old but by her demeanor I would say she had been working in a slaughterhouse for at least a hundred years. Although most of the pig was in a bag the hind legs were sticking out a bit, when Jim asked for a smaller bag to cover the feet, the woman laughed and with a low raspy voice said "I don't think it's gonna runaway on ya.".  Then she found a small bag and handed it to Jim and in a voice that I didn't think existed in Massachusetts grumbled "now you make sure to call us up if that thing gets up and runs away."  and then she laughed and laughed.
The pig wouldn't quite fit in the cooler, we had to let part of it's legs poke out of the top during the ride back.   So there were just pig's feet sticking up in the back window of Jim's car, which Jim observed "must look weird to anyone driving behind us.".  True.
Anyway, we got that thing back to his place and he washed it down and then I was off to the second part of my day.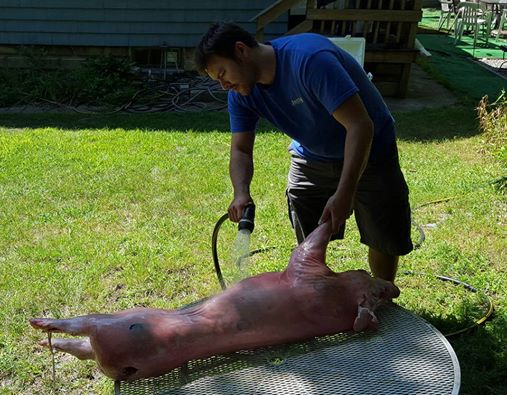 Comedy at the Country Club:  when I arrived at the country club in my toyota corolla I didn't feel as out of place as perhaps I should have.  I was on the golf team in high school so I'm familiar with being on a golf course.  But the clubs I owned were purchased at Building 19, I have nothing in common with the people in this crowd aside from being a white dude.  Let's say white man, these dudes don't like being called dudes.  As I approached the door to the venue I saw a sign that said "no jeans".  Whoops, looks like they are either dealing with me wearing jeans or I'm doing this gig with no pants on.
In all seriousness, the entire crowd was men, white men, white men over the age of 40, white men over the age of 40 that golf.  This is not my ideal crowd.  However, I do have a lot of history understanding what they think is funny.  For example, I knew that everyone in that room was just dying to hear me call one of the other guys in the crowd gay.  I knew that if I did that they would just about fall out of their seats with joy.  That's a pretty good card to keep in your back pocket, unless you're not wearing pants.  (I was).
I didn't call anyone gay but when the crowd started suggesting that two of the men in the crowd were together I told the younger one he "could do better" and they all lost it (of course).  I had planned on telling one more joke but nothing I've ever written, crafted, honed, and actually enjoyed telling was ever going to top the simple insult I just laid on that guy in the crowd so I put my hand up and said "Thank you guys so much, I gotta get out of here."
 Saturday – Phoebe and I went to Winchendon for a wedding and when we got there we wanted to get a room at a sort of nice looking hotel.  Over the phone the night before they said they had one room left and it was $170.  When we got to the hotel they told us they had on room left, it was a suite and it was $250.  So we decided to drive down the street to the $60 motel.  See above.
The wedding was….. awesome.  I think that's the best word to describe it.  It's supposed to be a good sign if it rains on your wedding day?  Well, I think when two awesome people come together to create the perfect awesome match it goes even further than rain and instead you get a freaking Hail Storm!  Because that's what happened.  The ceremony itself was short and sweet, each wrote their own vows.  It was a perfect wedding, I laughed, I cried, I fell in love with vegan chocolate chip cookies.  That last part surprised me but somehow they were delicious.
Ok, that's it for this week.  Come hang out with me in Quincy on Tuesday night.  It's gonna be the best thing to happen to Quincy in centuries.