Last week I accepted a job for a landscaping company.  I was up front about my schedule and told them I could only work one or two days a week.  The summer months are typically pretty slow for comedy so I'm just trying to make sure I can keep the lights on at my apartment.  Although I'm booked every weekend in May and June, who knows what July and August will bring.
Part of me felt like accepting even part time work meant that I failed, but after thinking about it I believe this is the smartest move at this point, provided that my schedule stays at one or two days a week I still have the proper amount of time to write and prepare for shows.
I left my full time day job painting cars on Sept. 5, 2014.  I went 228 days without dealing with a shitty commute or a boss that needed something done in the next hour that takes 3 hours to do or fixing a mistake that a coworker made that somehow becomes my problem.  I was living the dream for 228 days.  In the last week I've learned how to hate the alarm clock again.
So let's talk about the week:
Monday:  I hosted the comedy show at Sally O'Briens in Somerville.  As I will again tonight.  Come see me at 7:30!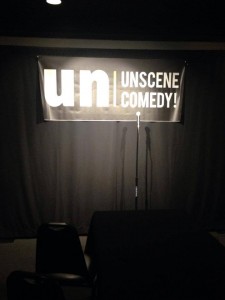 Tuesday:  I hosted a show that was so funny it was almost unfair.  Stadium in Quincy is just a ridiculous amount of fun and we even got signs for the back drop this week so that we look even more legit and official.  Can't wait for the next show.
Wednesday:  I enjoyed my last day of true freedom.  I went for a hike, I went for lunch with some friends, I went to a trivia night with some friends,  I set my alarm for 6:30 AM and went to sleep.
Thursday:  HIT THE SNOOZE BUTTON… 10 minutes later…  HIT THE SNOOZE BUTTON… 10 minutes later…  HIT THE SNOOZE BUTTON….  10 minutes later… "Ok, I better get up."  I go to work and I work a full 8 hour shift.  Then another hour after that.  Thursday night, no show, I fall asleep real early.
Friday:  I'm all about that snooze button, but I get out of bed and get to work on time.  I work 8 hours and bounce.  No show.  I fall asleep relatively early.
Saturday:  I work.  Again?  Yeah, well it was only four hours this time.  Then after three days of working like a goddamn commoner, I had a show.  I got on stage and I told jokes and stories at the Surf Lounge in Hull, thanks to Steve Kiley for putting me on the show.  It was a very nice crowd and I needed a fun night after three grueling days of sitting on a lawnmower.