Boston/New England Comedy Shows
A comprehensive list of independent comedy shows and venues that we think are just dandy.
The Comedy Studio
Wednesday-Sunday, 8pm show, doors at 7:30
Wednesday, Saturday & Sunday: Hosted by Rick Jenkins, Comedian/Owner
Fridays: Hosted by Rick Canavan
Thursdays: Hosted by a different comedian each week
Tuesdays: The Mystery Lounge Magic Show
$10:Wednesdays, Thursdays & Sundays.
$12:Tuesdays, Fridays & Saturdays.
Description:
A great place to see emerging talent along with lots of seasoned veterans and famous drop ins. This club gave comedians like Loiue CK, Shane Mauss, Brenden Small, Eugene Mirman & last comic standing favorites Myq Kaplan & Alingon Mitra their start. (Fun fact: Most of the UnScene staff has also completed their residency program!) An intimate room that frequently sells out on the weekends. Make sure to book tix in advance!
——————————————————————————–
Monday
Tuesday
UnScene Comedy Show
Standup comedy
Iron Furnace
1495 Hancock Street
Quincy, MA
Every Week.  8pm.  Free.
Wednesday
Fine Line Comedy Presents
Bella Luna Restaurant/ Milky Way Lounge
284 Amory St, Jamaica Plain, MA
1st Wednesday of every month
9:30pm, $5, 21+

Description:
Fine Line Comedy fosters inspiration-driven and experimental comedy that challenges performers and surprises audiences. Through comedy, we seek to reveal personal and universal truths, while putting on a smart and hilarious performance every time. Fine Line Comedy embraces comedic innovation and risk-taking. You'll see things at a Fine Line show that you haven't seen anywhere else. And, in the end, we'll all laugh really hard. Performance space in a hip restaurant/bar with great food.

Two Kids in a Trenchcoat 
Bella Luna Restaurant/ Milky Way Lounge
284 Amory St, Jamaica Plain, MA
3rd Wednesday of every month
9:30pm, Free, 21+
Description:
Andrew Mayer and Will Smalley join forces to present a weapons-grade amount of fun to an audience full of pizza. The show features some of Boston's best stand-up comedians, with a few weird surprises mixed in.
http://www.milkywayjp.com/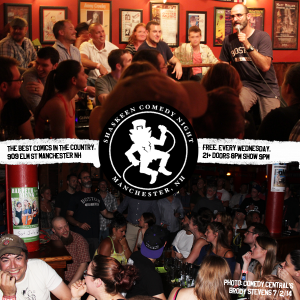 The Shaskeen, NH
Shaskeen Pub
909 Elm St
Manchester, New Hampshire 03104
Doors: 8pm, Show: 9pm, 21+
Every Wednesday
Description:
Comedy Night at the Shaskeen Pub is a West Coast style showcase with eight 5 minute guest spots, a paid feature and headliner. While not an open mic, this show does welcome new talent, especially those trying stand up for their first time. Regularly hosts touring comedians, highlights from 2013 – 2014 include Kyle Kinane, Brody Stevens, Shane Mauss, Myq Kaplan, Dan Soder, Dead Kevin, Jared Logan, Kara Klenk, John Tole, and Giulia Rozzi.
LULZ Comedy Night at AS220, RI
Starting March 4th
1st Wednesday of the month
AS220 
115 Empire Street
Providence, RI 02903
Hosted by Randy Bush
Doors: 8:30pm, Show: 9pm, $6
Description:
Fun alternative show in an art gallery/restaurant that serves fantastic locally grown food. 
True to his alternative focus, host Randy Bush, an openly gay comedian, wants to tilt the monthly series away from the mainstream comedy tendency to be "so 'bro' heavy," which he admits is "one of my least favorite things about comedy culture."  "If you're a fan of things like The Nerdist or Meltdown Comics Comedy shows," says Bush, "then I'm hoping you'll dig Lulz!"
http://www.as220.org/calendar/  
Thursday
Awkward Compliment at the Somerville Theatre
55 Davis Sq
Somerville, Massachusetts
8pm, $5
Description:
Great mix of up and coming standup and improv acts, headlined by the always hilarious Awkward Compliment improv group.
http://www.awkwardcompliment.com/
Castle Of Comedy at the Armory in Somerville
191 Highland Ave, Somerville, MA
Every 3rd Thursday of the month
8pm
Details:
A fun, goofy show in a coffee shop inside of the Somerville Armory building. Awesome stand-up comedy along with music and a vaudeville style piano player. Delicious cookies.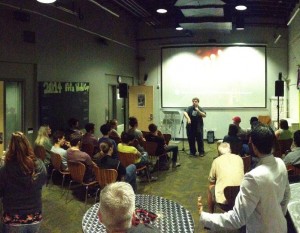 LOLstel
Hosteling International
19 Stuart St
Boston, Massachusetts 02116
Last Thursday of every month
7pm, Free
Description:
Enjoy a hilarious evening of stand-up and witty humor at HI-Boston's Community Room. Every month, the Boston Hostel gathers Boston's best up and coming comedians to come perform in our Community Room space. These comedians deliver hysterical material, ranging from  comical observations to good ol' fashioned self-deprecation. Come early to grab a coffee at our coffee bar, chat with HI-Boston's huge traveler community, and then stick around for our after-show pub crawl to Central Square.  
Friday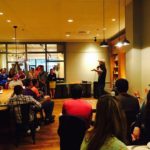 Pavement Comedy Show
736 Commonwealth Ave
Boston, MA
7:00pm
Every 3rd Friday of the month. Check Facebook page for details.
Description:
Coffee house.  Near BU right off the Green Line.  Hosted by Pamela Ross.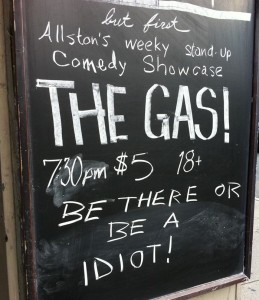 The Gas at Great Scott
1222 Commonwealth Ave
Allston, MA
7:00pm
Formerly weekly show, happens a few times a month. Check Facebook page for details.
Description:
Awesome rock club venue. Brings in lots of great alt comics from all over the country.
https://www.facebook.com/andersoncomedy
Saturday
Bogart LA Presents: The Mendoza Line
The Dugout Cafe
722 Commonwealth Ave, Boston, Massachusetts 02215
Every Saturday
9pm, $5
Description:
John Baglio, Kevin Seefried, and Adam Langlois host a weekly comedy show across the street from the BU Central stop on the B-line. Cheap drinks, FREE POPCORN, and killer comedy. Fun, intimate dive bar atmosphere with a great audience and awesome comics.
https://www.eventbrite.com/e/bogart-la-presents-the-mendoza-line-boston-alt-comedy-showcase-tickets-9919840510
The Surf Lounge Comedy Night
at Nantasket Beach Resort/Paragon Grill 
45 Hull Shore Dr
Hull, Massachusetts
Last Saturday of the month
Description:
Great mix of young feature acts and experienced headliners. A great show to take your parents to that everyone will enjoy.
http://www.paragongrill.com/live-entertainment-events/
Sunday
TBA