Back in the day, and by the day I mean like 2 years ago, I started my first iteration of a fashion blog on this site called 127 Outfits, which chronicled my Comic in Residence at the Comedy Studio in Boston, via you guessed it, pretty dresses.
A couple years and several outfits later, my residency is over, but my love of comedy and fashion is in full swing. I started a new fashion/comedy blog called Stylish For A Stand Up. This is a cross post from my new site. (But don't worry, I'm not going anywhere.) Enjoy!
-Christa
Ahh New Years Eve, one of the only holidays where it's acceptable to be both drunk and covered in more glitter than a 14 year old at a Taylor Swift concert. I love New Years because its just about the only time when I actually get to spend 2 hours on my hair and use all the hair gel, bobby pins and makeup I own. If I had time, I'd do this every day but since I'm not a housewife in the 1950s that's never going to happen.
Lucky for me, I got to do another killer New Years Eve show at the Comedy Studio in Harvard Square, filled with friends, family, a fantastic audience…and booze. Lots of booze. Over all it was an awesome night!
I've been stalking this dress from Modcloth for quite some time and I finally broke down and bought it. (Chi Chi London is the designer.) Aside from it's inordinate amount of sparkles and sequins, it's also pretty comfortable, so its great a for a long night. It gets an A+ in my book.
Once every 300 years I get a chance to match my nails to my dress. This nail style wasn't too hard to do. I started with painting my entire nail red. Then painted the gold polish over 3/4 of my nail. After it set a bit I went over the top 1/4 again with more gold. Then I finished it off it a top coat.
Clearly, I was still not wearing enough glitter. After I managed to pull off this nifty side roll thing I found in The Art of Hair: The Ultimate DIY Guide to Braids, Buns, Curls And More By Rubi Jones, hair style book, I decided to really go for it and did glitter roots.
Glitter roots are super easy to do. You just need some craft glitter, whatever gel you usually use and a haircolor brush. A small detail brush is best, but you can use anything. Just dump a bunch of glitter in the gel, mix it up and paint it on. That's it!
And to finish things off, you gotta go with some funky tights!
Finally after all that, time to party!
…and last but not least, the show!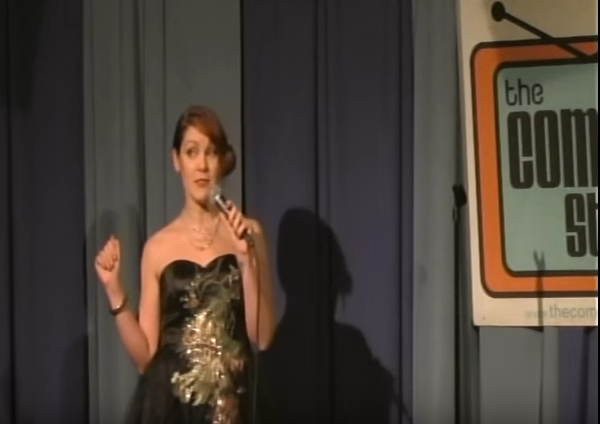 Like what you see? Find this and more at StylishForAStandup.com!