Salem MA. The home of the Salem witch trials. Kinda. Actually, just the courthouse where the trials took place is there, all the hangings and what not actually took place in Danvers, which is a town or two over and not a place that anyone particularly wants to visit. It's an adorable little suburb that also has a hill where a bunch of innocent old timey people died. And look you guys, this is Massachusetts, this state is pretty exploding with places where innocent old timey people died. But I digress. Salem is pretty badass either way.
I visited Salem over Columbus Day weekend, a holiday in which a bunch of innocent old timey people died, this time with small pox blankets and the general Manifest Destiny attitude of white people, before Manifest Destiny was a thing. But again, I digress. Salem is a beautiful little New England town complete with adorable old brick buildings, cobblestone streets and a statue of that witch from that 60's TV show. I'm not quite sure why they chose the Bewitched witch to represent all witches, other than the fact that she was the most attractive, benign one. I suppose Elizabeth Montgomery would attract more visitors than say, Bette Midler's character from Hocus Pocus because apparently people find buck teeth unappealing. LAME.
There are a lot of little fun shops in the area and if you go on the weekends they also have a lot of arts and crafts people set up along Essex Street to sell their wares. Lots of people are dressed up in costume, cuz fuck it, every day in Salem is pretty much Halloween anyway. The people dressed up in the most elaborate costumes are usually there to charge you a few dollars for taking a photo with them, which is why I took a photo of these lovely witches from the back. I can assure you their costumes were awesome, but I gots bills to pay, people.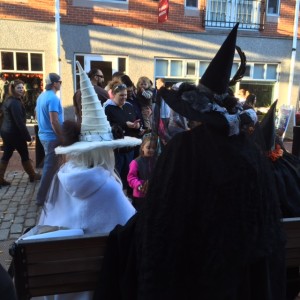 As we wandered around the street fair a bit, I heard a loud annoying bull horn.
What kind of inconsiderate douche- Oh. It's a crazy religious guy. Oh. AND he telling us we're all sinners and going to hell. Oh. AND he has a thick Southern accent. OF COURSE.
I'd like to say it was nice of him to make the trip but it wasn't. Luckily everyone else thought so too, and what was the only instance I've ever seen anyone get booed off stage, the guy got booed off stage…or off street. It took awhile to get rid of him, but man it felt good to see a community refeuse to let an idiot like that ruin everyone's good time.
After that we tried to get some food at virtually every place in the immediate area but everything was packed solid and had a crazy wait. We finally got a seat at a restaurant a few blocks off the main drag that was also packed and had a few pumpkin beers. Hell yeah.
After being newly revitalized with booze, we decided it was time for some history. We went to the Salem Witch History museum, which was horrifying. Well, horrifying isn't the right word, but um…weird. I heard pretty much everything I was expecting to hear, history-wise, it was the tour itself that was bizarre. After being given a brief speech in a church-like meeting area, our guide lead us into the basement of the building. It was dark. It was creepy. And it was filled with mannequins that all looked like permanent residents of uncanny valley.
Each series of scenes depicted a part of Salem history, but all the mannequins seemed to be frozen in mid-speech, so they looked if someone had snapped a photo of them off guard. I think the artist who made them was trying depict them looking a bit off guard, they just got it SUPER wrong. Honestly though, that's kind of why I liked it. Not a bad place to be if you love creepy kitch.
What I find baffling about Salem is that while everyone insists no one who was put to death was actually a witch, the place attracts a shit ton of witches and profits pretty heavily off them. There were a few actual witch supply stores…is that what you call them? They were interesting to browse, although the whole time, as with any witch store I've accidentally wandered into, (re: more than one), I felt like I had no business being there. I get it, witches. I'm a tourist and watching the Craft every day for 2 years while I was in junior high does not qualify me as a witch. It does qualify me to know that 90's Fairuza Balk is everything I've ever wanted to be.
In conclusion, Salem is awesome. I was only there for a short time, so there's a lot of stuff I missed. There's some great shopping, especially if you love funky clothes, jewelry, vintage stuff and general Hallweenery. There are a bunch of other museums and if you stay into the night, you can take an awesome ghost tour or visit a haunted house.
Since Salem is basically the Halloween capitol of the world, there are tons of events and activities to do and NOW IS THE TIME. Halloween night in Salem is supposed to be one giant crazy party so if you're looking for something awesome to do, you found it!
Want to find out what to do in Salem this Halloween? Go here: www.hauntedhappenings.org
Interested in awesome vintage? Check out modernmillieshop.com!
Want a creepy view of Salem history? Go here: www.witchhistorymuseum.com