I have been absent for a week.  I know.  As much as I wanted to write this column last Monday I was stuck on a bus and there was hardly enough room from me to breathe never mind bust out a lap top and start typing away.  I was on a bus because I've been splitting my time between New York and Boston for the past couple of weeks.  So, I guess I'll tell you about that.
Monday and Tuesday July 20 and 21st I hosted the comedy shows at Sally O'Brien's in Somerville and Stadium in Quincy of course.
Wednesday I jumped on a bus and headed to the NYC.  Why?  Did I have shows booked there?  No.  I just thought it would be a good idea to get down there and start meeting some comics from New York.  When I arrived Wednesday night I walked into the apartment I was staying in and fell asleep immediately.  Killing it in New York.  The next day I found a place to have lunch, walked around the neighborhood I was staying in for a little while, then later that night I met up with my friend Josh Gondelman.  He is a New York transplant from Boston and one of the nicest and funniest guys on the planet.  Josh was doing a show at The Creek and the Cave and another at a bar named Splitty so I tagged along with him to check out the shows.  I met a couple of comics Greg Johnson who is a really funny comic that is originally from Boston but left before I started doing comedy and Drew Michael  who was also on the show at Splitty and was very edgy and just destroyed the place.  And I don't mean edgy in the way that the judges on Last Comic Standing use the word, I mean in a way that might really make you squirm in your seat.  Edgy in a way that might actually make you think about something.  A comic that's not simply sitting back and having "the balls" to repeat another racial stereotype that's been thrown around as "edgy" comedy for 60 years but a person that can get on the nerves of people both liberal and conservative and still make the entire room laugh.
The rest of the time in NY I was walking around learning how to get anywhere on the subway, hanging out with old friends that had moved there from Boston and sleeping.
Monday morning I caught a bus home and that's where this blog began I guess.  I got home just in time to walk back from the train station to my apartment, get showered and changed and drive to Sally O'Briens for the comedy show.
Tuesday I hosted the comedy show at Stadium in Quincy and it was another devastatingly fun night.  YOU should check it out this Tuesday at 8pm.  1495 Hancock Street in Quincy Center.
Wednesday I hosted another show in Quincy at Maggie's Lounge.  We had a great lineup and music/comedy from Greg Traggelis. You can't beat the location either.
Thursday I got back on a bus to New York.  My plan was to go see Josh Gondelman at UCB East at 8:30 but because of traffic and my unfamiliarity with the transit system in New York I got there just as the show ended.   My phone was dead so I couldn't text Josh to see if he was still around, so I just hung out at the bar that's attached to the comedy club.  It's a really cool bar/club and if you're ever in NY I would definitely recommend checking it out.  Anyhow, as I was sitting alone having a lemon shandy Josh walked into the bar.  woohoo.  At least I could tell him why I missed the show.  When he took off I decided to stick around and watch the late show.  It was a improv/ stand up mix show.  I was unfamiliar with most of the comics on the show but I did know one comic that came out, Monroe Martin,  he was on Last Comic Standing last year and did quite well.  He was great.  I ended up leaving the show after his set because I thought they were going back into the improv portion of the show which is not really my cup of tea.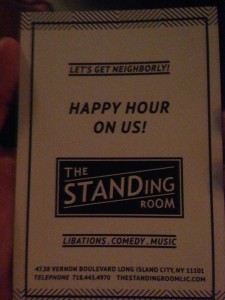 Friday I went to a show at Standing Room in Long Island City.  I had reserved a free ticket ahead of time so I knew I would have a seat, perfect.  I got to the show and they sat me directly in front of the stage, not perfect.  What's worse is it seems like every comic that got on stage was doing crowd work and I am sitting alone looking like a weirdo.  It really made me remember what it's like to sit down and be an audience member and have no-one on the show know who you are.  Normally I like to just kind of sit in the back of the room at a comedy show but nope, not this night, front and center.  I also met some really funny people after the show. Definitely another place worth checking out.  And you can get a frozen pepper cocktail drink thing if that's what you're into.
Saturday I just hung out with some friends and Sunday I drove home with them, avoiding the bus altogether!
Some people have been asking me if I plan on moving to New York and the answer is no.  I understand that there's more industry there but I don't want to pay $2,000 for a shitty apartment that is still an hour away from everything.  I also don't love paying $6 for a cup of foam.  My point is New York is too expensive for me and I like it in Boston.  I think I'll stay here.
Oh and lastly.  Here's a friendly reminder that you should definitely come see Myq Kaplan in Quincy.