127 Outfits: My Weekly Chronicle of Comic in Residence at the Comedy Studio via Pretty Dresses
Week 4: The Finale!

by Christa Weiss
Finally! Week 4! I'm totally bummed this was my last week but what a great week it was! I really tried to bring since I only had a few days left to work on things. I tweaked a couple things in the newer jokes I've been working on and wrote a new joke that managed to work, pretty much right away. During the weekends focused getting the tightest set I could.
As far as the outfits go, I also really tried to bring it this week and I think I was sufficiently funky. I tried to keep it interesting and colorful, which is never quite difficult for me to do, as my closet looks like the equivalent of a rainbow made of vintage pixie dust with some skulls and bat wings sprinkled in. I have very specific taste.
Anyway, on to the shows!
Saturday, February 22

You can't go wrong on a Saturday! Always a great time. Sold out crowd as usual. The crowd itself was a little weird that night. There was a small group of people who came in together that just seemed off. It's a hard to thing to explain when a room feels off, but as a comedian you really have to pay attention to people and how they act/react to things. A couple of people in the that group heckled a little during my set, but I just ignored it and everything was cool. A few comics later that group ended up leaving. It turned out one of the people in the group had suffered a recent tragedy and didn't feel up to staying for the rest of the show. Totally understandable. Their tickets were comped and the rest of the show went off without a hitch. Everyone relaxed, the comics had great sets and the room resumed it's status quo awesomeness.
The Outfit: This dress might look familiar, especially since there is a photo of it, roughly 2 inches above this sentence. I got headshots taken in this dress a couple of years ago. It's always been one of my favorites. This is another one of those rare finds from a super shitty teenage clothing store. I'm not quite sure what they were doing with an awesome reproduction vintage mod dress, but I do know that if it had been marketed that way, it would have cost $150 instead of $15. Christa FTW!
Sunday, February 23
Another fun Sunday. Kelly McFarland headlined. She's one of the best comics in Boston and one of my favorite people to watch. I opened with a few things I was trying to re-tool along and closed with my more solid stuff.
Sunday also marked the day that I was inspired to write a new joke. I won't go into detail but I got a splinter in a place that was…uncomfortable. Heh. The one great things about being a comic is that when something shitty or embarrassing happens you have immediate recourse. When you write a joke about something that sucks, it takes the power away from it and really makes you own the story. It's a weird kind of pathology to have but whenever something awful happens my first reaction is a) "Bah! Everything sucks!" which is immediately followed by b) "Sweet! I'm totally writing a joke about this." Long story short, I didn't become a comedian because I'm a healthy, well adjust individual.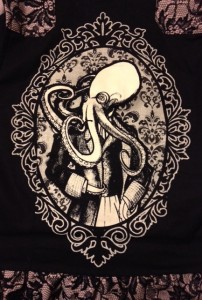 The Outfit: As much as I try to avoid it, things that are a little bit gothy tend to sneak into my wardrobe every now and then. I can resist the urge only so much, and I just couldn't pass up this vest. It's black. It's frilly. Its got silly pentagram buttons AND it has a VICTORIAN OCTOPUS MAN etched on the back. I only have so much strength. I bought the vest is from Plasticland, which is one of my favorite silly hipster internet clothing stores. And yes, I found out about the store because there was a link to it on one of the sidebar ads on my Facebook, yes I am a stereotype within a stereotype and yes, I hate myself for it. SUCK IT EVERYONE. IMMA DO ME!
Monday, February 24
No show. I go to work, write last week's blog and pass out on my couch.
Tuesday, February 25
Ah, my last magic show! Pretty good crowd that night, and thankfully, no little kids. I kept it clean as I had been. I did my new joke which worked out really well on the first try. I did my regular closer for the first time at the magic show, and oh boy, were they not impressed. It crushes 99% of the time, but I think this crowd wanted more jokey-jokes and my closer is more of a story. I also did a joke that loosely involves the ridiculousness of Sigfried and Roy, which all the magicians really liked. I have no idea why I didn't think to do it sooner since the magic show is the perfect place for it but at least I got to do it once. Yet again the magicians kicked some serious ass and everyone enjoyed the show.
The Outfit: I seem to have run out of appropriately goofy stuff for the magicians assistant idea I was going for, but I figured this dress was bright and colorful, so it worked. This is another one of those random $10 clearance rack from H&M things. Oddly enough, the day I bought it, my friend/awesome comic Shea Spillane, also bought the same dress at a different H&M. We both loose points for originality, but we gain points for good taste. Again, the hairclip party of my failed Etsy attempt stockpile.
Wednesday, February 26
My final Wednesday as CIR. It brings tears to my eyes! I love Wednesdays because they are always pretty relaxed and full of my comic friends there just to hang out. I tweaked my new joke to make it a little tighter and it really seemed to be working well. The audience was great and a couple of my Rhode Island comic buddies were there. Good times were had by all.
The Outfit: This one I decided to go "social media savvy" and left it up to a Facebook vote. I couldn't decide between white pants with a black stripe or a black skirt with a white stripe. (Being a chick is hard, you guys.) I gave the people what they wanted and they wanted white pants…or for me not to be able to sit down all night. White pants will stain just by looking at them the wrong way.
I got the jeans from the Urban Outfitters bargain basement in Harvard Square. I think there's only one of two of those in the country. I hate to admit that I love that store, but lets face it, the quality is garbage. While I can't reconcile spending $80 on a pair of jeans that I know is going to fall apart in 2 weeks, I can live with spending $10 on them. The awesome scarf I got as a Christmas present from my lovely amiga Shea.
Thursday, February 27
I couldn't think of a better way to spend my last Thursday than hanging out with Bethany Van Delft and Julie K, two of the funniest ladies I know! They host the 4th Thursday of every month. After each comic is finished with their set, Julie or Bethany joins the comic on stage to talk about the latest (and most ridiculous news) and asks the comic a few questions. And, you guessed it, hilarity ensues!
I tweak all the stuff I was working on during the week and try to make things tight as possible for the weekend. My new joke works again so I decided it's time to bring it to the weekend. The crowd was awesome and there were a ton of people there. The format of the show was a lot of fun and I look forward to doing it again.
The Outfit: Oh boy, this is a fun one. I bought the dress is this weird little store called Marine Specialties in Province Town, Cape Cod. It smelled like fish. The store is my favorite places to go while I'm in P-town. It has a combination of military surplus stuff, vintage airline dishware, sea shells, old license plates, a few random racks of discontinued clothing and everything in between. I could live there. The scarf is from Pi Alley. If you're not familiar, Pi Alley, is ummm…an alley. I'm not sure why it has a name, but it's a tiny little half street in Boston's Financial district. Some stupid must have yuppy dropped it because I found it laying along in the middle of the street. Am I above street clothing…no, no I am not. Honestly this isn't the first thing I've picked up off the street either. (If you needed anything to solidify my craziness, this would be it, but  never pick up anything gross and I wash everything before I wear it…so it's not that gross, right? RIGHT????) Anyway it's actually my favorite scarf and I wear it all the time. The earring I got once again from Nomad in Cambridge, as a present to myself when I got a clip of my put on Rooftop Comedy. Small victories! Best celebrated with earrings!
Friday, February 28…My last day!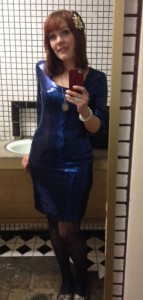 For some reason it didn't quite hit me until after my set on Thursday, that I was almost done with CIR. I was totally bummed it was over so I really needed to make my last set count. The more familiar you are with performing on a certain stage the better you do. Since I've been performing on the same stage for several weeks straight, I think I've gotten a good portion of the technical part down. I did all my best stuff and was confident enough in my new joke to bring it to the stage and it worked great.
My friends Emily and Chris came to see my last show and I was totally stoked they came. Way back before I started comedy, we used to all go to the Studio together to watch the show and get shitfaced on scorpion bowls. (I still have all those little plastic animals.) It was then, looking at the stage, lit up and barely able to stand that I thought to myself…"I think, I might be able to do this." I'm weirdly emotional about this right now, and I know it all sounds cheesy but that's really what happened. It's great to see how everything's come full circle and honestly I'm really proud of myself.
The Outfit: Since this was my last day, I really needed to make things spectacular, so sequins were definitely the way to go. Sequins can be a little gaudy but since they were dark blue they weren't too distracting or blinding when I was on stage. This dress is another little gem that I got for super cheap on clearance that should have been waaaaay more expensive than it was. The hairclip is yet another one I made from my Etsy days. I don't wear it too often because it's a bit big, but it's definitely one of my favorites. The necklace actually used to be a pair of earrings. I lost one, but I still really liked it so I took off the earring part and turned it into a necklace. Give me a pair of pliers and I can make jewelry out of just about anything.
Conclusion!
Wow. I can't believe it's over. Comic in Residence has been an absolutely amazing experience. Having a great crowd every night really helped me tighten up my jokes and get comfortable on stage. There so many slight tweaks you can make in your performance and little tags you can make to your jokes that make such a huge difference performance-wise. Having an awesome attentive crowd every right really helps refine those small but important things. Opening up a show can be tough but it really gave me the confidence to come out swinging every time. Having a few oddball shows really helped too. The "Bring the Teens" night magic show really tested my ability to be able to perform for lots different kinds of people. Hosting the crazy packed Sunday show was super stressful at first, but was one of the most rewarding. I couldn't have asked for a better month! I feel like I've really improved during my time there.
So thank you, everyone! I'm really grateful to Rick Jenkins, Andrea, Sasha, Carrie, Rick Canavan and everyone who had to put up with my craziness on stage all last month. I wouldn't have been able to do it without you! You guys kick some serious ass!


The Outfits: This blog was a lot of fun to do, but oh man, I'm glad I don't have to take thousands of pictures of myself anymore! I'm super stoked that so many people read it! Will I content with the fashion blog thing? Possibly, but at least for the next few days, I think I'm going to spend most of my time in sweatpants.
<3
Christa
Want to come see this month's Comic in Residence, James Creelman and all the other fantastic comics at The Comedy Studio? Of course you do!
Reserve tix now at www.eventbrite.com/o/the-comedy-studio or visit http://thecomedystudio.com!