127 Outfits: My Weekly Chronicle of Comic in Residence at the Comedy Studio via Pretty Dresses
Week 3
by Christa Weiss
Ahh, week 3! I really feel like I've been able to settle in and get comfortable. The crowds were great all week despite the amazingly crappy weather. I also got to host the show on Sunday which was a totally fun/terrifying/life affirming time. I have finally reached an important milestone in my residency because I've just received the ceremonial Comic in Residence cold/flu. I don't usually get sick, but it's pretty common for people doing CIR to get a cold around Week 3. Part of it is just handing a mike that's been passed around by so many people, part of it's the weather and part of is the fact that I have one of those full time day jobs things, so performing 6 nights a week leaves you with not much time to rest or recuperate. Alas! I soldier on. The shows were great so it was totally cool either way.
Oh yeah the shows! It's time to talk about that!
Saturday, February 15
Wooo! Saturday! Great night all around. There is yet another epic snowstorm (seriously, how many of those damn things can we have?) and even though the show sold out way in advance no one bails on their tickets. The show is crazy packed and the crowd is great. A couple of my non-comic friends randomly show up to watch the show, which was totally cool of them. As I've got a dwindling number of non-comedy friends, I don't usually bug them about coming to shows, mostly because I want them to not hate me. We all go to the Cellar afterwards for a few drinks. There are no fries to steal, so me and Andrea get bacon wrapped dates, which might just be the single best food known to man.
The Outfit: Pretty simple baby doll dress thing with a beaded collar. I think it makes me look like a 12 year old from the 1950's in a world where it was cool to wear things that look like they were made of curtains. This is actually from one of those designer sections of Macy's but I bought it in late January, when everything is on clearance so I got it for nothing. It's super comfortable and pretty warm (remember, curtains) which is why I wore it that night.
Sunday, February 16
Craziness! This show started as completely terrifying but ended being totally fun. During comic in residence, the CIR hosts the 3rd Sunday of the month. My Sunday just so happened to fall the day before President's Day. Shows on the nights before holidays are usually packed because so many people have the day off afterwards and this was no exception. It was packed to the gills, just like a weekend show. This already left me a bit nervous, but then unfortunately our headliner for the evening got sick and had to cancel….which left me nothing short of petrified. We gave everyone a little more time, put up a couple of comics who were hanging out (say Thank You,Ted) and had Rick Jenkins close out the show. It was an easy fix but at first I was running around like a chicken with my head cut off. I was really intimidated at the idea at hosting a totally packed crazy show, but I came out swinging, the crowd really liked me and everything went completely smoothly. Being able to host a great crowd like that was amazing. So far, this is definitely the show I'm most proud of.
The Outfit: I went with something a little more formal particularly because I was hosting. It kind of makes you more of an…I dunno, an authority figure? Maybe that's not quite the right word but it kind of show's that you're the ringmaster of all of the craziness. Of course the top of the dress is leopard print, because…um…it's me and that's what I do. Fun fact 1: I wore this dress to do my first show. Fun Fact 2: I was fucking TERRIBLE.
Monday, February 17
No show, PLUS I have the day off from work. I make a pineapple upside down cake and remember what it's like to be a person. I go to Sally O'Brein's (Shawn Carter's open mic) and accomplish nothing…but everyone really likes the cake.
Tuesday, February 18
The magic show. It was officially "Bring the Teens Night" because the show happened to coincide with February break. There certainly were teens there, and tweens and whatever happens before tweens. I think they're called "children". Not exactly a crowd I'm used to. Playing clean on Tuesdays really paid off, since at this point I was used to cleaning up my jokes a little. I'm not quite sure if the really little kids had any idea what I was talking about, but the parents seemed to dig me, and their kids didn't learn any new words. The Studio hasn't received any angry letters to my knowledge, so I think I did my job.
The magic show also marks the first day I'm beginning to suspect I have the Black Death. I start thinking about writing my will but realize I own almost nothing of value.
The Outfit: I've had this dress forever, I think since high school. I'm kind of a packrat when it comes to clothing, but I think the design holds up. You can't quite tell from the photo but it's got bright pink tulle underneath, and I figured pink and floofy went with the while magician's assistant thing. I got the headband from a friend in college who had a knack for shoplifting. Once she realized she didn't really need the stuff she took, I usually ended up inheriting it. Have I benefited from the criminal activity of others? Maybe, but it wouldn't be the first time.

Wednesday, February 19
I'm now fully immersed in phlegm and horriblness. I only have to do 5 minutes, so it's not a huge deal, but I find out my timing is totally thrown off when I'm sick. I think a lot of this is due to the fact that I sound different in the mike and my breathing pattern is different because my head is full of goo. I end up pulling my shit together and get through the set just fine. I ask people afterwards if they could tell I was sick, but no one seemed to notice, so at least I did a good job faking it. I go home and drink a shitload of tea with honey.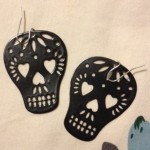 The Outfit: Yup, still more leopard print. Look, at least it's not all the same print of leopard print. There are only so many versions of the stuff you can have without going totally colorblind. I got the jacket at the same airport shop that I got the dress I wore on Valentine's Day. It was a weirdly great store in such a strange place. Philly airport clothing store! How I miss you! The earrings I wore are one of my favorite pairs. I got them from my favorite store, Nomad, on Mass Ave in Cambridge. They've got tons of great Mexican/ international artwork, knickknacks, jewelry and fair trade clothing. They are my main supplier for my sugar skull addiction. I can't seem to wander in there without buying something. Check the website here: http://nomadcambridge.com
Thursday, February 20

Mehran and Kirsten's show. Almost totally sold out. A delightful dose of craziness and fun. I have a couple of new tags I'm working on and I've resurrected a few old jokes. I'm still sick, but I have a better idea of how to handle it now. I still sound horse but my timing is much better. I've been having the worst coughing fits so I eat approximately 10,000 cough drops before I go on stage and bring one up with me just in case. For the only 7 minutes in the last 24 hours, I finally manage not to cough my lungs up. Huzzah!
The Outfit: No great story here. I bought it at TJ Max for $15. It's got a sort of "Japanese girl going through a phase" thing happening. I'd never go fully Gothic Lolita, because let's face it, that shit is creepy. A small dose of it every here and there isn't so bad though. The earrings are another one of my favorite pairs. Little birds in a cage. I think anyone's who's ever worked in a cubicle can understand that one.
Friday, February 21

Another sold out Friday. Yeeha! I'm trying to get the tightest set I can for a weekend, so every time I rearrange things to see how they fit in the best way. I do one of the jokes I've brought back during the week and it get's a lackluster response. I'm not quite sure why it works sometimes and why it doesn't others, but it might have something to do with the way I deliver it. Other than that my set went great and the crowd was totally hot. I'm still petrified of throwing a raging coughing fit during my set, so I eat another 10,000 cough drops. I'm not sure if it's possible to OD on cough drops…but umm…let's hope not. The banana has yet again reappeared on the performer list and my partners in crime Carter and Phoebe are there so it is a night full of friendship and awesomeness. My boyfriend Ted comes by and we eat burritos. All is right with the world.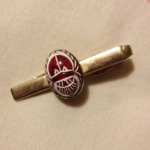 The Outfit: I actually got the dress from my mom for Christmas. The lady knows what I like. The photo doesn't quite to the dress justice. It's sparkly gold at the bottom and gradually fades into tan. I'm wearing dark purple fleece lined tights with it. Fleece lined tights might be one of the greatest things ever. They feel kind of like wearing a blanket around your legs. If it wasn't for the fact that I had a show, I'm not sure I ever would have made it out of my house in those things. The hair clip I'm wearing is actually a vintage tie tack that I inherited from my grandfather, which I always thought was beautiful.
Conclusion:
Oh man, what a crazy week. Again the weekends totally rocked. Hosting the Sunday show was amazing and probably the most awesome/scary/kickass nights I've had there so far. I'm totally stoked I had that opportunity. The "Bring the Teens Night" magic show was also a challenge but I think I handled it well and everyone went home happy.
Being sick definitely made the week difficult, but I'm glad I made it though it. At first performing with a cold totally threw off my timing, because you have to breathe differently and it's more difficult to annunciate. Being sick blows, but it happens and it wasn't totally a bad thing. I've learned how to compensate for the weird breathing things that are happening, so even though I still sound funky, I can deliver my jokes correctly.  Proved I'm not vomiting on stage GG Allen style, I'm pretty confident that when I get sick in the future, I'll still be able to deliver a pretty solid set.
Now onto Week 4…and someone bring me some goddamn chicken soup!
Want to come see my shows? Of course you do!
Reserve tix now at www.eventbrite.com/o/the-comedy-studio or visit http://thecomedystudio.com!