127 Outfits: My Weekly Chronicle of Comic in Residence at the Comedy Studio via Pretty Dresses
Week 2
by Christa Weiss
Holy crap! I can't believe I'm already at the end of my second week! Time flies when you're having fun/totally sleep deprived! I picked one hell of a month! Aside from some crazy inclement weather (Is the polar vortex an elaborate conspiracy from the Swiss Miss Corporation to sell hot chocolate? – Think about it…) the shows have been amazing. Aside from the nights it's been too snowy to walk outside, it's been totally packed. The weather has been so awful I think people are really looking for some entertainment. Am I benefiting from other people's seasonal affective disorder? Um, probably, but I wouldn't be a comic if i didn't also love other people's pain. Anyway, on with the show!(s)
Saturday, February 8
Another awesome sold out weekend. I was a little worried about opening every show in the top spot, because usually it's the most difficult spot on the show. The crowds have been so great it really hasn't been a problem at all. I've been trying to put together a stronger opener, so it's been really helpful to be able to make slight tweaks and changes every night to see how I can make everything work in the best way. I had a bunch of people compliment me after the show, which was really nice. I had one guy tell me it was "the best $12 he's ever spent." Apparently, he's never had a really good cheeseburger, but I'll take it!
The Outfit: Ok admittedly, neither of these are photos in the Comedy Studio, but it was so packed that I couldn't manage to take a picture with anyone or even manage to get into the bathroom by myself. Believe me, I do not want someone walking in on me taking these ridiculous pictures, because, lets face it. I'd look like a freaking insane person (if I don't already.) I took the photo on the right when I got home. I actually bought this dress to take my CIR headshots in, so the photo on the left is actually from that, courtesy of the awesome Kirsten Sims (Jenkins). The cowboy boots I wore with the dress, might be my favorite thing in the world. I bought them at a vintage store in North Carolina when I was there for a festival.
Sunday, February 9

My first Sunday as CIR. Ken Reid was headlining and told some great stories. I opened with a few things I had worked on during the week. I got a good response from the newer stuff. I closed with a joke that I like that is mostly reliable…but the mostly part kind of kicked in and I didn't end quite a strongly as I would have liked. I hate having a joke I like the idea of but can't quite get it to translate from my brain to the stage, but it just means I need to work on it more.
The Outfit: Since Sundays are usually relaxed I decided to go casual. I bought the purple pants on clearance at the juniors department at Macy's because I'm a dork. Andrea made the earrings for me a few years ago, when we got each other in the Comedy Studio Secret Santa. The lady knows what I like (dead things.)
Monday, February 10:
No show. I write last week's blog and pass out on my couch when I get home from work.
 Tuesday, February 11
Another awesome magic show! This one was almost totally packed. There were a few office parties on top of the regular audience. I decided to keep it clean again, especially because of the office parties. Sometimes those crowds can be a little tight, because people are a little afraid to laugh at something that might be inappropriate in front of their co-workers. Having one day a week to say clean is a good exercise and I can see how I can tweak the stuff I normally do to make it a little more friendly to hesitant crowds. That being said, I think they really enjoyed my stuff so it worked out great. As usual the magicians rocked it.
The Outfit: I went with the whole magicians assistant idea again. The dress I got from Buffalo Exchange, which is a cool consignment shop. The dress became uncool, however, when I looked at the tag and realized it was from Charlotte Rousse, which is basically a store where 14 year olds buy clothing to get dry humped at thier first dance. The necklace I'm wearing is from a flea market in a barn (pronounced the Baaahn) in Maine when a few years ago, I went to visit the family of my ex-boyfriend WHO DOESN'T FUCKING DESERVE ME. Cough cough, sorry about that. What was I saying? Oh yes, comedy…
Wednesday, February 12
Another fun Wednesday. I open with mostly newer stuff and it worked out pretty well. One of my new jokes is pretty silly so I've had a hard time not kind of laughing when I tell it, but this time I manage to get it out with a straight face. My friend Phoebe is on the show and we reminisce about the time we decided we were going to take German classes together but then ended up doing comedy for four years instead. I think we made the right move, although I'd love to make it to Oktoberfest.
The Outfit: I can't take this many pictures of myself without making a couple of stupid faces. I just can't. It's science. I got the funky sequin skirt from a cute little boutique in Rochester, NY, my hometown. The necklace I got at my family's church flea market in the gym of my old elementary school, when I was a teenager. All the old ladies would bring their cool old jewelry there. I think I bought it for 30 cents. The earrings I bought from a vender at Art Beat in Somerville, a great arts festival in Davis Square. It happens every July and it's probably one of my favorite things about living in Somerville. Find more about it here: somervilleartscouncil.org/artbeat/2014
Thursday, February 13
Andrew Mayer and Will Smally's show. Super fun time. Will and Andrew buy each other Valentine's day cards and give away some cards and fake tattoos to the audience. I open with a weird story I've been working on. It's kind of long, so I don't do it very often. It always works pretty well, but the beginning needs some help. I realize I could probably cut out the first minute or two of the story, which would definitely tighten things up. Again, the weather was ridiculous and horrible, but a heroic amount of people show up anyway and the night is totally awesome.
The Outfit: The weather was horrible so it would have been insane to wear a dress. You can't quite tell from the photo but the pants are actually red velvety snakeskin. Sexy!…but more importantly warm! The shirt and vest I got in two different really crappy cheap teenager clothing stores. There's a lot of garbage in those types of places but you can get good stuff if you look for it. Carrie gave me the super cool 80's earrings. I love them because they are funky but still match with most everything. At this point I'm pretty sure I have way more pairs of earrings than I do pairs of underwear.
Friday, February 14
Valentines Day! Another sold out crowd. The audience was a little tighter than I thought it would be but the laughs were consistent. I think this is because the people who had enough foresight to actually reserve tickets in time were all nice responsible adults, so they were a bit more reserved. We're comics. There is nothing responsible or adult about us. Either way comics and audience alike had a great time.
My banana drawing magically ends up back on the performer list, due the wonders of photocopying and Andrea. I think that might have been my favorite part of the show. Me and my manfriend sneak out a little early to get dinner/margaritas/laid.
The Outfit: It's Valentine's Day so anything red was the obvious choice. I bought the dress during a layover in an airport in Philadelphia. I was on my way home from the Cleveland Comedy Festival. Usually, I try to grab a souvenir from every city I visit, but umm…it was Cleveland. (The festival was great though!) The hairclip was yet another thing I made for Etsy that I never got around to selling. I don't usually brag about fancy jewelry, as much of my stuff comes from garage sales, but my bf Ted got me a really awesome necklace this year for my birthday. Those rocks are for reals yo. Ok, bragging done.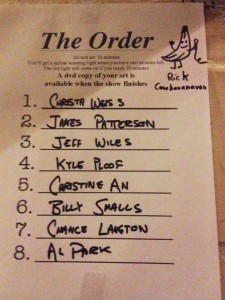 Conclusion:
Week 2 kicked some serious ass. I think I've really been able to cut the fat out of my jokes and tighten up my stuff. Its been great to be able to have a new audience every night and being able to tweak things slightly really makes a big difference. There's a lot of jokes I either dumped or totally forgot about that I've been able to resurrect and in general I feel way more confident on stage. The audiences have been great and even the snowiest nights have been a lot of fun.
The Outfits: Oh man, I am sick of taking selfies but I've made a commitment and I'm going to stick with it goddamnit! It's been fun trying to wear something new every night, and it's less of a challenge than I thought, on account of the fact that I have a ridiculous amount of clothing.
One thing I've realized is that above all (fashion related) things I'm a collector. When I was a kid I collected rocks and shells, when I got older I collected toys and rubber ducks (I used to have over 100, but the more of those you acquire the more insane you seem) and then fancy-smacy art toys. I always loved the thrill of the hunt and I love finding cool things in strange and unexpected places. I've always enjoyed building and creating things and putting together an outfit is like putting together a really sparkly self-indulgent puzzle.
I'm having a great time with this fashion blog thing, but oh man, I am sick of my own face. Alas! On to Week 3!
<3
Christa
Want to come see my shows? Of course you do!
Reserve tix now at www.eventbrite.com/o/the-comedy-studio or visit http://thecomedystudio.com!