Grandma's Basement Eulogy #4: The Origin of Stank Dick
– by Sean Wilkinson
One of our favorite comedy clubs in Boston will be closing its doors in a few short days.  As such, we're having a few comedians write eulogies about their beloved, Grandma('s Basement Comedy Club.) This is the 4th…
Before Grandma's Basement started, I went to college down the street from the Howard Johnson's. I knew it as the shady hotel some of my friends lived in for a couple semesters while my Alma Mater tried to sort out its housing crisis. There were stories of a bar that was (allegedly) liberal on carding people and a hotel where prostitution (allegedly) ran rampant, so when I heard that an open mic had started up there I was obviously intrigued. One Thursday night, I drove from my parent's house in Brockton, parked illegally in the Shaw's parking lot across the street, and walked in as Benny Bosh began the show. I checked the list… 30 names?!… and walked out immediately. I've always been an old man at heart, and had to wake up at 5:30 for work, so I skipped it. Still, I couldn't wait to return. The place looked less like a new open mic, and more like it had been a late-night comedy lounge for decades.
When I finally moved back to Boston and stopped caring about sleep, Grandma's quickly became my home venue. The open mics were 4-5 hour marathons. They had three stages. The first was "Hey, this is pretty good. Some of these jokes are misses, but overall I'm enjoying this." The second could go either way: "Wow, this is like an actual show." or…
"Wow, this train has really derailed, but I can't stop watching."
Regardless of how the second stage went, the third was always "What the fuck is happening? I shouldn't even be awake right now… but I still can't leave. It feels like a fight is going to break out and I don't want to miss it." The open mic made this place an instant favorite in the community, so weekend shows were added to the mix. They were sometimes great, sometimes awful, but provided a great place for up-and-comers to get consistent work and have their friends see them for cheap. I invited people to these shows often, and the name and location created a lot of confusion:
Friend: "You're performing at your grandmother's house?"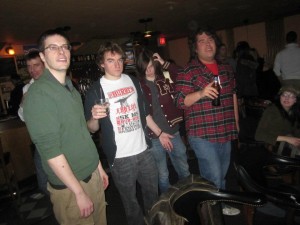 Me: "No, the name of the venue is Grandma's Basement."
Friend: "It's in a basement?"
Me: "No. There's a story behind that name, but I kinda forget it."
Friend: "So where is it?"
Me: "The Howard Johnson's near Fenway."
Friend: "They still have those?"
Me: "Yes, well– the hotel, not the restaurant."
Friend: "So they don't have food?"
Me: "They do. It's chinese food."
Friend: "So it's in a chinese restaurant?"
Me: "No, that's just attached. It's actually in a bar called the Tiki Lounge. But the tiki theme is VERY loose. There's a dartboard next to the stage and a creepy clown mug behind the bar."
Friend: "So it's a comedy club in a sorta Hawaiian bar next to a Chinese restaurant, all of which is inside a hotel franchise that I'm still convinced doesn't exist."

Me: "You got it."
Friend: "I don't know. This sounds really weird."
Me: "It's only 5 bucks and they have scorpion bowls–"
Friend: "–I'm there."
If the name was confusing, the vibe was even moreso. Oftentimes, the crowd created more memorable moments than the comics did. One time, a sleepy toddler walked in, took her mother by the hand, and dragged her back to their hotel room after she had partied too hard… and that wouldn't even crack a "top ten strangest moments" list.
In short, the vibe was drunk. Even normal, upright citizens couldn't help but feel like degenerates the second they walked in. The lighting was dim, the ceilings were low, and nothing had been updated since the 70's. This weird vibe spawned some even weirder material. Grandma's gave us the freedom to try out stuff we couldn't anywhere else, and the unspoken competition to "outweird" each other never ceased. Whether it was John Paul Rivera's wife-murdering character, Shawn Donovan yelling "Stop fucking my sister!", or Tim Vargulish prancing on stage for minutes at a time, the contest always ended in a draw.
Out of that, my "Stank Dick" bit was born.
Here is an early rendition of it (this is the first time I've uploaded a video of it, a decision I'm sure to regret):


http://www.youtube.com/watch?v=lE9lNksziJg
In the interest of full disclosure: Grandma's was not the first place "Stank Dick" was performed, but it did become it's home, and the aforementioned weirdness competition that started there was absolutely to blame. One night, I watched my friend Rob Crean write a fake set list for another comic. It opened with the words "Stank Dick" (with the obvious callback to "Stank Pussy" later in the set). In a quasi-Def Comedy Jam voice, I said over and over "It ain't the balls. It ain't the balls… It's that stank dick!" Rob laughed and suggested I say it on stage. At the time, that was enough to get me to try anything.
I opened with it, and then abruptly went into my own voice without ever mentioning it again. It was the most fun I had had on stage up to that point. No one knew what was happening, but 80% of the audience loved it. They couldn't get enough of "that stanky dick right there". The other 20%, on the other hand, HATED it. They looked like they wanted to walk out, and breathed a collective sigh of relief when I broke character. Those numbers would hold true for most crowds, and walking that line between love, hate, and "I'm not sure what's going on– oh thank god, that's not his real personality" was exhilarating. Stank Dick became more popular than I could've imagined, and at Grandma's it took on a life of it's own.
I feel like I'm tooting my own horn here, but nearly every time I took the stage at Grandma's another comic would ask "Are you gonna do Stank Dick?". The answer was usually no, but I did it anyways. Sometimes I'd go on stage not knowing what to say, or planning something else entirely, and I found the words "So y'all ever be fucking somebody?" coming out of my mouth. Even though I performed "Stank Dick" all over, it became married to Grandma's.
I'd argue it belongs more to the room than me even, as evidenced by the Phoenix's write-up on the club, which quotes Stank Dick, but never mentions my name.
Normally I'd be a little offended, but with Stank Dick I totally got it. In other rooms it worked because it didn't belong in such classy establishments, in Grandma's it worked because it felt like those words had been waiting in the floorboards since the place was built (to paraphrase The Shining: "You've always been the Stank Dick at this hotel"). Part of me believes that if you were playing darts and missed, the wall would squeak "T'ain't the taint!"
I moved to New York in 2012 to pursue comedy, and over the years I've outgrown that bit… sorta. I pull it out every once in a while for fun, and last night jumped at the chance to perform it over the phone at the final Grandma's weekend show. Maybe it'll even be the bonus track on my first album, but it doesn't really fit in with my act anymore. I'm much more autobiographical these days, so it's kinda strange to shout "Stank Dick" into a microphone for 2 minutes, then follow it up with a personal story about the time I told a friend I was in love with her in an e-mail. People wouldn't know what's real anymore. Still, Grandma's weirdness competition was essential to the comedic development of my friends and I.
So even as the Boston comedy scene evolves, Grandma passes on, and her lover Richard Stank waits for the plug to be pulled, I hope the "Fuck it, we can do whatever we want" spirit lives on. It needs to.
Thanks to Benny Bosh and Tom Dunlap for starting this room, and all the other weirdos that made it what it was. I love you all.
Hate,
Sean Wilkinson