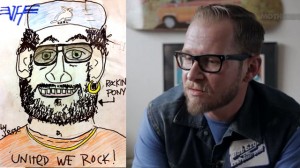 This Week in Comedy is a segment brought to you by your friends at UnScene showcasing the best alt comedy shows in Boston. 
This Week in Comedy:
"@Dadboner & Friends, You Guys"
The Gas at Great Scott in Allston,
Friday November 8th, 7pm.
I'm sure you're all aware of the hilarious Twitter phenomenon known as @Dadboner AKA Karl Welzein. How could you not? He's a hilarious personification many of our worst fears and our most desperate beer fueled, kid abandoning desires. But, did you know that @Dadboner, is like, an actual guy? A guy who does comedy? Who's great at it? WELL YOU DO NOW!
The genius behind @Dadboner is the one and only Mike Burns, an LA based writer and stand-up comedian.  He'll be at the Gas Friday, November 8th with our good friend Matt Braunger, and SNL's Brooks Wheelan.
Did I mention @Dadboner AKA Karl Welzein AKA Mike Burns is also an author? It's true! @Dadboner himself has decided impart his most manly, of man-wisdom to his manly man-disciples in his memoir, Power Moves: Livin' the American Dream, USA Style.
Here are just some of his many life changing philosophies:
Diet: "Eat JUST the insides of Taco Bell Beefy Melt Burritos. Snip off the tops and enjoy with a fork. Call 'em 'Beefy Melt Travelers.' Taco Bell should sell 'em that way for folks lookin' to get that beach bod on point."
Fashion: "Wearin' boots with jean shorts says, 'I like to keep cool, but I'm ready if the action gets hot.'"
The Office: "If you don't have a job that makes you want to kill yourself, you don't deserve to drink until you want to die, you guys."
You get the idea, you guys. Go to the show, buy the book, have a great time and drink some beer…for @Dadboner.
Cheers!
Christa
"@DadBoner & Friends, You Guys"
Starring Mike Burns, Matt Braunger, Brooks Wheelan, and special guests
Friday, November 8th
Great Scott • 1222 Commonwealth Ave.
Doors at 7:00 p.m.
18+
Tickets $20 at greatscottboston.com
———————————————————————————————————————-
Got a kickass comedy show you'd like to the world to know about? Contact us here!