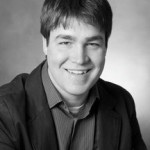 A week before Christmas, when my younger brother Greg asked me to dress up as Santa for his son's birthday party I wanted to say no, but he wanted to surprise the kids with Santa so badly that he talked me into it. Now I'm somewhat jolly and plump but my physique does not quite match what is expected of Santa and I have very dark black thick eyebrow (singular).
So once I got into the not so convincing $49.95 Santa suit that Greg bought from Lowes I shoved a pillow down the front of my shirt and put some flour on my eyebrow, which only made me look like a Santa Geisha. The hat was so small it got lost in the giant wig and kept falling off. When I entered the room all the children just stared. The children stopped running around and the adults stared equally bewildered by what was happening.
My sister in law asked "Santa, how did you get here?", unsure of my story and voice I simply yelled "HO, HO, HO!", as if that's all that Santa can say. I'm not sure how to do a good Santa voice so but I knew I had to disguise my voice so I simply made my own voice deeper and slower, which made me a strange looking Santa that talked like Wild Bill from The Silence of the Lambs. So it's no wonder that when the time came for my nephew to come and get his gift he was too scared. He is only 2 years old after all. The really sad thing is that any child under 3 was scared and any child over 3 was not fooled. If anyone needs a really shitty Santa let me know.
Shawn